Year 6 Fun Day
Class Carols and Nativity
K-5 End of Year Presentation
1st Sunday of Advent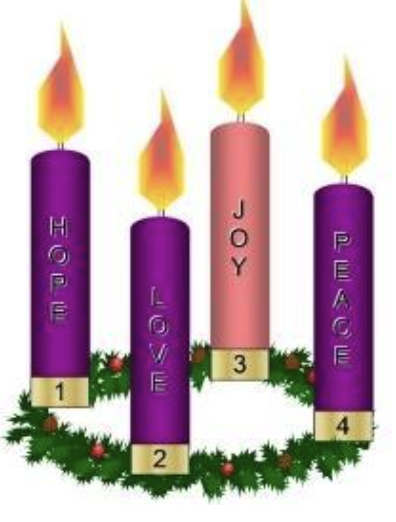 1st Sunday of Advent - In this Gospel reading Mark 13:24-37: speaks of the importance to Watch out! Be alert! and Be Ready for the Lord's coming.
All classes in Religious Education Programs will focus on the Advent Season, the preparation and waiting for the coming of Jesus, over the next 4 weeks.
St Ambrose Feast Day: Thursday 7th December.
The students will celebrate this special day being involved in lots of fun activities at school.
Saint Ambrose's Story is one of openness to follow God's call. He was a popular politician in the fourth-century Milan. In the midst of heated debates, the people of Milan recognised the gifts of Ambrose and elected him bishop. He was neither baptized nor ordained at the time. Humbled and shocked, he accepted the office and made the commitment to take his calling seriously. He became a great administrator and theologian, a model of both prayerfulness and practicality. Tradition honours him as one of the original Doctors of the Church.
St Ambrose Music Tutor - Piano
We are currently seeking to appoint a Piano Tutor to inspire both our current students and those from outside the College.
Successful candidates will be able to demonstrate at interview a personal faith and commitment to the Lord Jesus Christ and a lifestyle consistent with that faith, including an active commitment to a Christian fellowship. The successful candidate must:
have appropriate qualifications/experience to teach students including a valid Working With Children Check;

have the ability to teach students from 5 to 12 years of age;

have excellent skills in communicating with students and parents;

be willing to contribute to the development of performance opportunities held at St Ambrose as required by the Principal; and,

have their own ABN and the capacity to operate as an independent contractor.
If this sounds like you we want to hear from you! Send your enquiry or application to the School at sapot@lism.catholic.edu.au
Church Windows
This year, the graduating Year 6 Class of 2023 designed a special gift for the school Church. We raised money by selling chicken burgers and jelly cups. The money raised went towards an amazing stained glass window that is now displayed in the church.
Arabella & Sage.
Farewell Jocelyn
This week we say goodbye to our beloved Piano Teacher. Jocelyn is moving interstate and has taken a position as a full time English and Dance Teacher in North Queensland.
We wish Jocelyn all the best in the future and in her new career. Jocelyn's presence in the childrens lives will be missed but not forgotten.
Yarning Circle
A big thank you to our very talented Brent for completing our new Yarning Circle. A Yarning Circle is an ancient practice used by Indigenous Australian cultures to teach and learn, preserving and passing on knowledge and traditions through collaboration.
Our new Yarning Circle will help deepen our children's learning, engage in prayer and build and strengthen respectful relationships with each other.
NAIDOC MEDAL OF EXCELLENCE
Congratulations to Eloise in Kindergarten for your wonderful NAIDOC achievement. Eloise has been awarded a NAIDOC Medal of Excellence (one of 38 in the State) for her artwork that depicted the importance of cultural awareness, friendship and bringing all Australians together.
Eloise will have her picture and image below sent to the Prime Minister to be included in his presentation for inclusion in parliament.
Congratulations Eloise.
Semester Two Report Cards
On Wednesday 6th December, Report Cards will be sent home for every child in the school. These are
important to keep parents informed about the learning that is taking place at school and how
each child is progressing through the curriculum.
There has been a significant change in the reporting process for Semester 2, 2023. The NSW Government is reforming the curriculum to streamline and strengthen what is taught in every classroom in NSW, so every student is prepared and ready for their future. The curriculum reform has been informed by consultation with teachers, parents and education experts, and is underpinned by extensive research. Curriculum reform involves changing teaching, learning, assessment and reporting to parents.
Our three way structured student/parent/teacher conferences will replace the General Comment on your child report. The conference presents a chance to explore your child's strengths across all Key Learning Areas. It will provide opportunities for students to prepare, reflect on, and discuss evidence of their learning and growth, and individual learning goals. As we have already completed this conference process in Term 3, 2023 this will not be revisited again until Semester 1, 2024.
Reports cover a lot of what we do at school, however, it is not possible to report on all learning that takes place. Children learn so much during a semester that it would take more time to report on the learning than it would to plan the learning experience itself.
We have a strong culture here at St Ambrose where we view all learning as important whether we report on it or not. Indeed, not all learning can even be assessed and therefore reporting on that makes it even more difficult.
Students are encouraged to develop a love of learning where the experience of discovery is a greater reward than reading a good mark or grade. Of course, good marks and grades are important but all learning is important whether it is assessed and reported on or not.
As we draw closer to the end of the school year, we are still learning at school and this learning is valuable. What we learn may not appear on a report card but the knowledge and skills gained are equally as important now as at any other point during the year.
More information regarding Semester 2 Report cards will be communicated to families in the coming days.
Advent
The time of Advent is the four week period of preparation for the season of Christmas. Advent begins the cycle of the new Liturgical Year and focuses on the coming of the Lord. The first weeks offer a vision of the future, looking to the end of time when Christ will come again. The final weeks point more specifically to the birth of Christ. Christ, the promised one, is awaited with joyful expectation. The First Sunday of Advent follows the final Sunday of Ordinary Time and the season concludes on Christmas Eve.
The First Week of Advent begins with the First Sunday of Advent. In the Sunday Gospel from Matthew, Jesus stresses to the disciples the importance of being alert at all times for the coming of the Son of Man.
Sporting Achievement
Taylen Howard headed to Gunnedah for the final rounds of the Aussie Flat Track Nationals. After minimal time on his bikes this year he is jumping on all racing opportunities to finish off the 2024 race year.
With a reputable line up of competitors he battled bars with riders from all over the Nation. His riding improved significantly over the weekend finishing off with a podium of 3rd place. He is excited to continue his racing journey through to 2024!
Catholic Schools Parent Assembly - Advent
ST AMBROSE PARENT FORUM NEED YOU!
As you may be aware, the positions within the Parent Forum are reset on an annual basis. At the Annual General Meeting (7th Feb 2024 at 6:30 pm), all positions are declared vacant at the commencement of the meeting. The chairperson from the previous year (Mr. Jeff Bottle) provides an overview of the available positions, such as chairperson, secretary, treasurer etc. Subsequently, individuals express their preferences and are then assigned their chosen roles through either a voting or appointment process.

If you would like to nominate yourself or know someone who would be great for any of these roles (with their permission) please email us at stambrosepf@gmail.com.
Thank you,
Parent Forum.
Transition to school resources
Community News
EMERGENCY MANAGEMENT PLANNING
The safety of our students, families and staff is our highest priority. In order to best ensure this, the St Ambrose leadership and staff, supported by the Catholic Schools Office, plan for a number of possible incidents, emergencies or natural disasters that could take place at school or during the school term. The events of recent years have reinforced how important this planning is and we all have a role to play when it comes to emergency management, including families.
Our students participate in various safety drills and staff participate through training and safety drills. We'd like to share with you the role of parents and families in emergency management.
School Lockdown
A number of the situations we plan for include a school lockdown as one of the immediate safety actions to ensure the safety of our students and staff. We understand that some may understand the word 'lockdown' to mean there is an immediate safety risk to all students. It is important to understand that when a school initiates a lockdown this may not be the case.
Depending on the situation, the purpose of a school lockdown will differ. A school lockdown may be a preparation step for an evacuation, or a school lockdown may allow emergency services access to an area of the school without having to navigate past students. Regardless of the purpose of a school lockdown, no one can be admitted to the school grounds other than emergency services.
Should we initiate a school lockdown, parents and families will be informed via text message and Compass notification. We will also inform parents and families as soon as the school lockdown has been lifted or if there are any actions required of parents and families. It is important that you do not attempt to attend the school during a school lockdown. We understand that you may be concerned however attending the school may also add risk to a possible emergency situation, block emergency services or impede an evacuation.
Natural Disaster
In the event of a natural disaster, such as flood or bushfire, the school leadership, supported by the Catholic Schools Office, will determine if it is safe for the school to open. If there is a probability the school may have to close part way through the day, the school will not open for that day as it is extremely difficult to evacuate a school site and ensure all students are able to go directly home safely.
In a bush fire or flood event it is important that parents and families have a plan to get your child/ren home from school, or into your care, at short notice. Please be aware that school buses may not be running and the school can not allow your child/ren to go home to an empty house or home with another parent without your permission.
Family Preparedness
How can you help us prepare for emergency situations? Please ensure that:
You

have

downloaded

Compass

and

have

allowed

notifications.

Any

changes

to

your

contact

details

or

custodial

arrangements

have

been

updated

with the school.
You

have

a

bush

fire/flood

plan

in

place that all members of your family understand.
In

the

event

of

a

school

lockdown

or

evacuation,

directions

in

the

parent

notifications

are

followed.
It is always our hope that these measures will never be needed but it is also our responsibility to ensure our school community is prepared and informed should the need arise. We thank you in advance for your support and cooperation.
Michael Piccoli and Nigel McIntyre
Work Health and Safety Manager, Catholic Schools Office
Parish Newsletter
School Bus Pass Notification – Term 1 2024
Who should apply / reapply?
All students transitioning from Primary School to High School / Year 6 to Year 7
Students with a 2023 bus pass who need to update or change any of their details
Students without a bus pass wishing to travel on a bus.
Who doesn't need to apply / reapply?
Students who currently have a bus pass for 2023 which do not fall into the above categories
Students without a bus pass not wishing to travel on the bus
Please visit the below links for more information on applying for a School Bus Pass.
https://transportnsw.info/tickets-opal/ticket-eligibility-concessions/school-student-travel
https://transportnsw.info/tickets-opal/ticket-eligibility-concessions/child-student-concessions
If you have concerns regarding your schools' services or a student on the network, Kinetic can be contacted directly on 07 5552 2700 and select option 5, where you will be directed to the Customer Experience Team.
Useful links to follow and keep up to date on travel and road conditions:
To view the latest travel alerts from Transport for New South Wales, please visit https://transportnsw.info/alerts#/bus
To check road and traffic conditions, please visit https://www.service.nsw.gov.au/transaction/live-traffic-nsw
For all travel options, to and from school refer to the Trip Planner by visiting https://transportnsw.info/trip#/trip or phone Transport for New South Wales on 131 500