2023, Term 1, Week 5
Principal's Message
Dear Families,

This week we have commenced our Parent Teacher interviews. This is a wonderful opportunity to share and receive insights into your child's learning, find out how they have settled into the new year and of course to meet your child's teacher. I strongly encourage you to arrange this meeting either face to face or via zoom.

This week we had a theatrical group give a short performance to our Yr 4 -6 students entitled - "sticks and stones". The underlying message from the performance was about bullying and resilience. The message and strategies shared was very powerful and well received by the students.

This week we also remembered the first year anniversary of the devastating floods that ravaged our local communities. We gave thanks to those who rallied together to assist those who were in need and we continue to pray for and support those families still effected.

Preparations are well underway for our upcoming School Fair - Saturday 1st April. Many thanks to all those who are working behind the scenes to make this happen. It is shaping up to be yet another fabulous school community event.

This week our speech therapist - Bridie Macphail went on maternity leave. We wish Bridie and her partner Jock all the best as they prepare to welcome their first child. Bridie is expected to return back to St Ambrose in Term 4.

Kind Regards,

Brian Laybutt
Principal


Friday Assembly: 3 Teal
Religious News
This Sunday 5th March
STS MARY & AMBROSE CHURCH, POTTSVILLE SCHOOL/PARISH FAMILY MASS 7:30am MASS
Sacrament of Penance/Reconciliation Commitment Mass (This involves children from Year 4 who are preparing to receive this Sacrament)
At this Mass celebration staff from St Ambrose will be attending to the ministry duties and there will be children's liturgy.
We HOPE TO SEE MANY ST. AMBROSE FAMILIES AT THIS MASS
Parent/Child Sacrament of Penance/Reconciliation meeting.

Last Monday evening we had a wonderful Parent/Child Sacrament of Penance/Reconciliation meeting. Thank you to the wonderful parents and students who came along to this meeting. It is lovely to see the students being supported by their families during this special time of preparing for Sacraments.
Shrove Tuesday

A Big THANK YOU to Mr Bottle and the Year 6 students who cooked and distributed yummy pancakes on Shrove Tuesday.
Ash Wednesday

The Years 4 to 6 students attended Mass on Ash Wednesday and the students from Kinder to Year 3 attended a prayer service in the Church. All students received the sign of the cross on their forehead to mark the beginning of the Lenten Season. In their Religious lessons, students will explore the Lenten Season further and learn about the importance of prayer, fasting, and almsgiving during this special time in our Catholic calendar leading to Easter.
Project Compassion

The small sacrifices we make during Lent make room in our hearts to welcome the risen Jesus at Easter.

Project Compassion boxes will be placed on class prayer tables and sent home

Lent

Lent is the period of 40 days that comes before Easter in the Christian calendar. Beginning on Ash Wednesday,
Lent is a season of reflection and preparation before the celebrations of Easter. It's the perfect time to reset your spiritual and sometimes emotional and physical self.
This Lenten prayer resource is a simple way to share the traditions of Lent within your family.
One Year Anniversary of the floods
Last Tuesday all classes held a class prayer liturgy and completed an activity in remembrance of the devastating floods and the impact they had and are still having on people today.
The Year 6 students wrote messages of Hope as we remembered the devastation from the 2022 floods. We had a small liturgy, reflected with a video and then made a hope tree with our hopes and prayers for the students and teachers in the passive play area to reflect upon.

PEACE RUN - Incursion

Last Tuesday the Years 4 to 6 students were visited by a group of people who
are involved in the Sri Chinmoy Oneness-Home PEACE RUN. It is the world's
largest and longest torch relay promoting peace. These people were running
from Brisbane to Canberra and passed through our Pottsville area. It was
wonderful to hear their stories and listen to them promoting Peace in the
World.
Canteen Volunteers Needed
The Canteen is need of volunteers, especially for Friday's Term 2.

If you are available to volunteer at our canteen please contact the School Office.


Gardening Club Volunteers Needed
We are looking for parents / friends who would like to assist students with our gardening club. Tuesday's 10.55am - 11.45am. It entails looking after our vegetable gardens, propagating seedlings in our green house, planting, pruning etc. If you have a "green thumb", or even if you don't but would like to assist please contact Mr Jeff Bottle via the school office.
Clean up Australia Day
St Ambrose Year 5 students participated in Clean Up Australia Day today. To promote the civic responsibility that we all share to protect our environment, Yr 5 will students collected and correctly disposed of rubbish from around our school. This opportunity allows students to work together and ensure our school and surroundings are clean and tidy.
Sports News
Upcoming events update:
Event

Date

Dio Swimming

Friday 3rd March

Dio Winter Sports Trials

Friday 10th March

School Cross Country

Friday 24th March

Zone Cross Country

Friday 5th May

Blind Cricket Program All Year 3-6 students

Wednesday 24th May

Wednesday 7th June

Wednesday 14th June

AFL Gala Day

Tuesday 30th May
Tweed Zone Winter Sports Trials
Over the last few weeks we have had a number of students participate in the Zone Winter Sports Trials. We would like to congratulate the following students on their selections in their chosen sports. We wish them all the best at the diocesan trials.
Netball
Annabelle
Rugby League U12s
Lucas , Marlin, Zak and Blake

Rugby League U11s
Sonny, Isaac, Duke and Chase
Rugby Union
Harry and Sennen
Soccer
Ben, Hugo, Rosie and Sophia
Dio AFL
A huge congratulations to Jacob on his selections into the Lismore team for AFL. Jacob will now head to Bateau Bay to play at the Polding trials on Tuesday the 4th of April. Jacob is in the back row, 5th from the left. Good lukc Jacob!
Wellbeing
Free Parent Webinar with Dr Justin Coulson
The NSW Council of Catholic School Parents is facilitating a free webinar for parents in Catholic schools with Justin Coulson to support parents and carers to understand anxiety and resilience in children. Please promote this to your parent community by sharing this flyer.
School Fair
Thank you to the school community for your continuous support with the Fair. It is shaping up to be a huge successful event this year!

FREE DRESS DONATION DAYS ARE:

Friday 10th March: Plant, Lolly, Chocolate Stall Donations
Friday 17th March: Plant, Lolly, Chocolate Stall Donations
Friday 31st March: Cake & Jam Stall Donations
RIDES INFORMATION

Click here to book your unlimited rides pass – discounts for pre-purchased ride passes.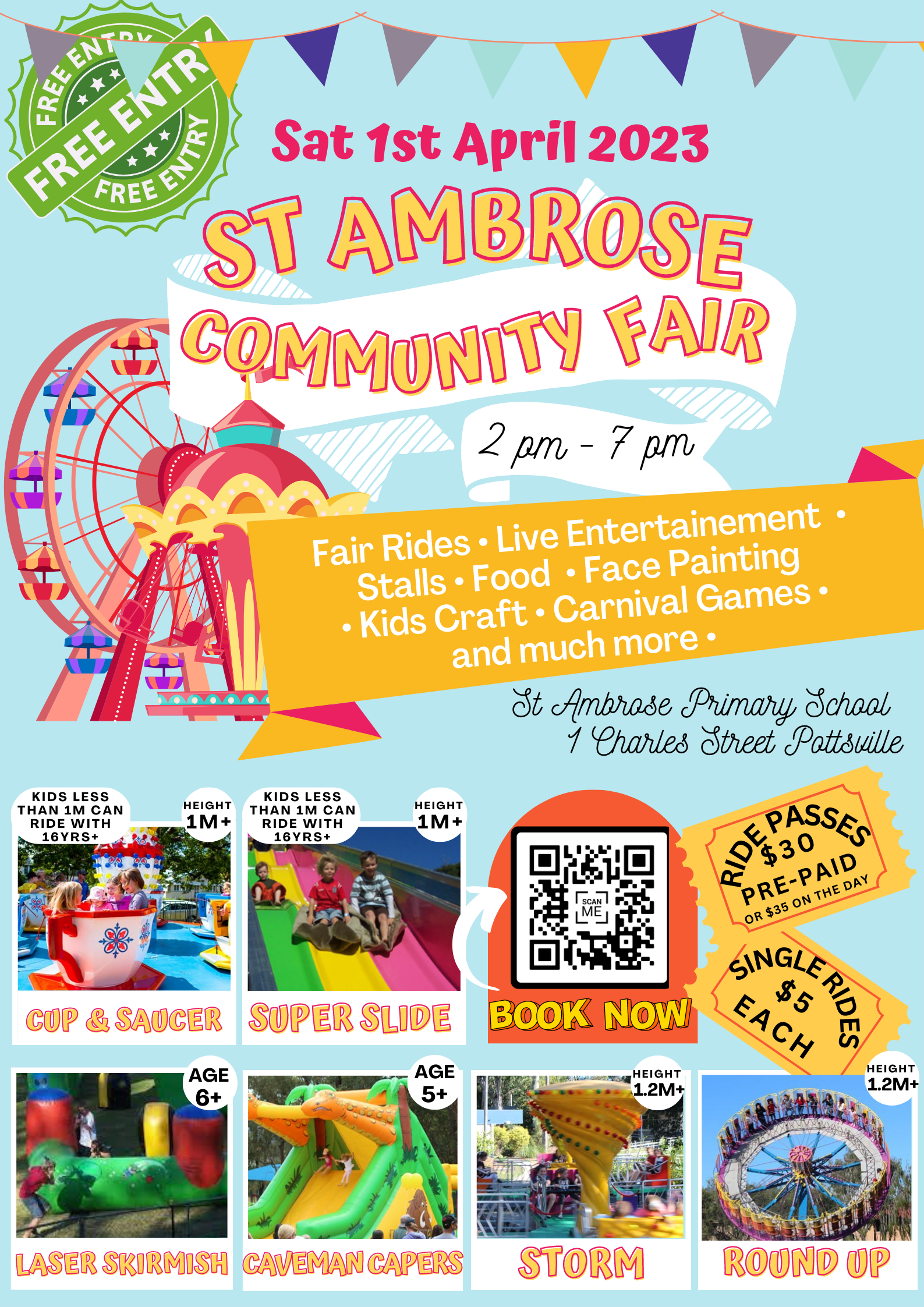 Community News
Little Grommets St Ambrose Pottsville April Holiday Program
We have just released the vacation care program for these April school holidays.
You're welcome to start making booking request for the dates required.
Booking request can be made via -The Xplor Home app - Creating Bookings – Xplor (ourxplor.com)
You will receive a confirmation notice when approved. If a rejection notice is received, this means we have reached capacity for that date, and you will be added to the waitlist.)
Email - admin@grommetsooshc.com.au
Text Message - 0411 199 049 (office) 0477 670 320 (service)
This way it helps us keep track of the bookings.
If you have any questions, please reach out.

Thank you,
Little Grommets St Ambrose Pottsville