2023, Term 1, Week 7
Principal's Message
Dear Families,

This week our Yr 3 & 5 students have been sitting for the National NAPLAN assessment. The results from these assessment tasks provide a snapshot into the literacy and numeracy levels of each child. Importantly they provide the school with valuable data identifying areas of success and areas for development. It is always important to consult your child's classroom teacher about their academic progress so as to attain a wider and more rounded view of their performance rather than being reliant on a single one off assessment task.

On Thursday the school conducted an Open Day whereby school tours were made available to prospective students / families. If you are looking at enrolling a student for 2024, please submit an online enrolment form, located on the school web page.

This week our Parish Church - St Mary's and Ambrose Catholic Church celebrates 40 years. To celebrate this milestone we will have a special mass on Sunday morning, followed by a morning tea and a reflection of the 40 years. All families are welcome to attend.

Preparations are well and truly underway for our upcoming SCHOOL FAIR to be held on Saturday 1st April. If you are able to assist in any way, please contact the school office. Volunteers are always welcome!!

Recently I was away on a training course - the National School Improvement Tool. This "tool" assists schools to review and reflect on their efforts to improve the quality of classroom teaching and learning. School improvement fundamentally means improving what schools do! From this process, schools will develop a School Improvement Plan. The training will enable me to assist in the review of other schools and in 2024 St Ambrose will participate in this review process.

I am heading off on some long service leave over the next 9 days and will return in time for the "Fair". Have a great week.

Kind Regards,

Brian Laybutt
Principal


St AMBROSE GOLF DAY
Royal Pottsville Golf Course was the host for the 9th St Ambrose, Ambrose Tournament. As with previous years a strong field assembled all eager to take out the prestigious St Ambrose, Ambrose Trophy. In oppressive heat all teams managed to put on a display of precision golf, as evidenced by the thunderous applause and laughter that could be heard echoing around the course.
Results :Longest Drive: Ben
Nearest to the Pin 2nd Shot - Mr Cook
Nearest the Pin - Mr Laybutt
Gross Score Winners : Ryan, Ben, Dan
Net Winners - Tim, Dan, Jayson and Jason

Congratulations to our overall winners of Tim, Dan, Jayson and Jason who took out the converted trophy.
Special mention to Jayson Hoffman, having got through the qualifying rounds for the last 4 years, was finally a member of the winning team!!

Thanks to all who came and we look forward to our next golf day.

Pictured: Gross Score Winners Net: Dan, Ryan and Ben and OVERALL WINNERS: Jason Dan, Jayson and Tim,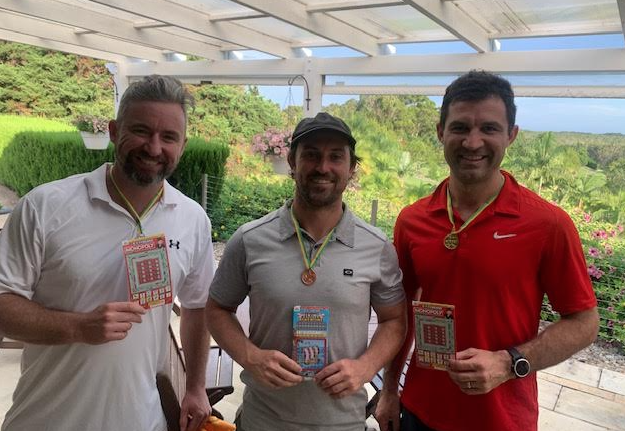 Friday Assembly
Religious News
Sunday School/Parish Mass
On Sunday 5th March at our School/Parish Mass, the students preparing for the Sacrament of Reconciliation stood in front of the parish congregation to read their commitment pledge. It was wonderful to see the Church filled with many St Ambrose families. During Mass, just over 50 children went over to the school with teachers for children's liturgy. Let's hope our other School/Parish Masses throughout the year continue to grow and thrive with the school and parish families coming together to celebrate Mass. Please note in your calendar our 2 School /Parish Masses for Term 2:
Sunday 21st May – 7:30 am (Holy Communion Commitment Mass)
Sunday 18th June – 7:30am (Some children will be making their First Holy Communion)
Friday 17th March - Feast Day of Saint Patrick
St Patrick is the Patron Saint of the Diocese of Lismore. He wassuccessful in preaching the Gospel and converting much of Ireland to Catholicism. Over the years many Irish priests, nuns, and brothers have worked in the parishes and schools of our Diocese. As God sent Saint Patrick to teach the Gospel to the people of Ireland, so may we bring peace and joy to others.
During this time of Lent may we come to know Jesus more deeply and to live in His truth. We pray that we become the people Jesus calls us to be, a welcoming community alive to relationships of justice and peace.
Incitáre
On Tuesday the 7th of March 10 Year 6 students went to a retreat called Incitàre.
Incitáre was a chance to share our journeys of faith, listen to others and strengthen our relationship with God. We made new friends and we reconnected with old ones. Our scripture theme was " And let us consider how to provoke one another to love and good deeds, not neglecting to meet together, but encouraging one another." HEBREWS 10:24.
We enjoyed playing games, doing activities and discussing in our small groups. At the end, after our amazing day we were anointed by our group leaders, the St. Josephs Year 10 students and were presented with small tokens to remember our great experience.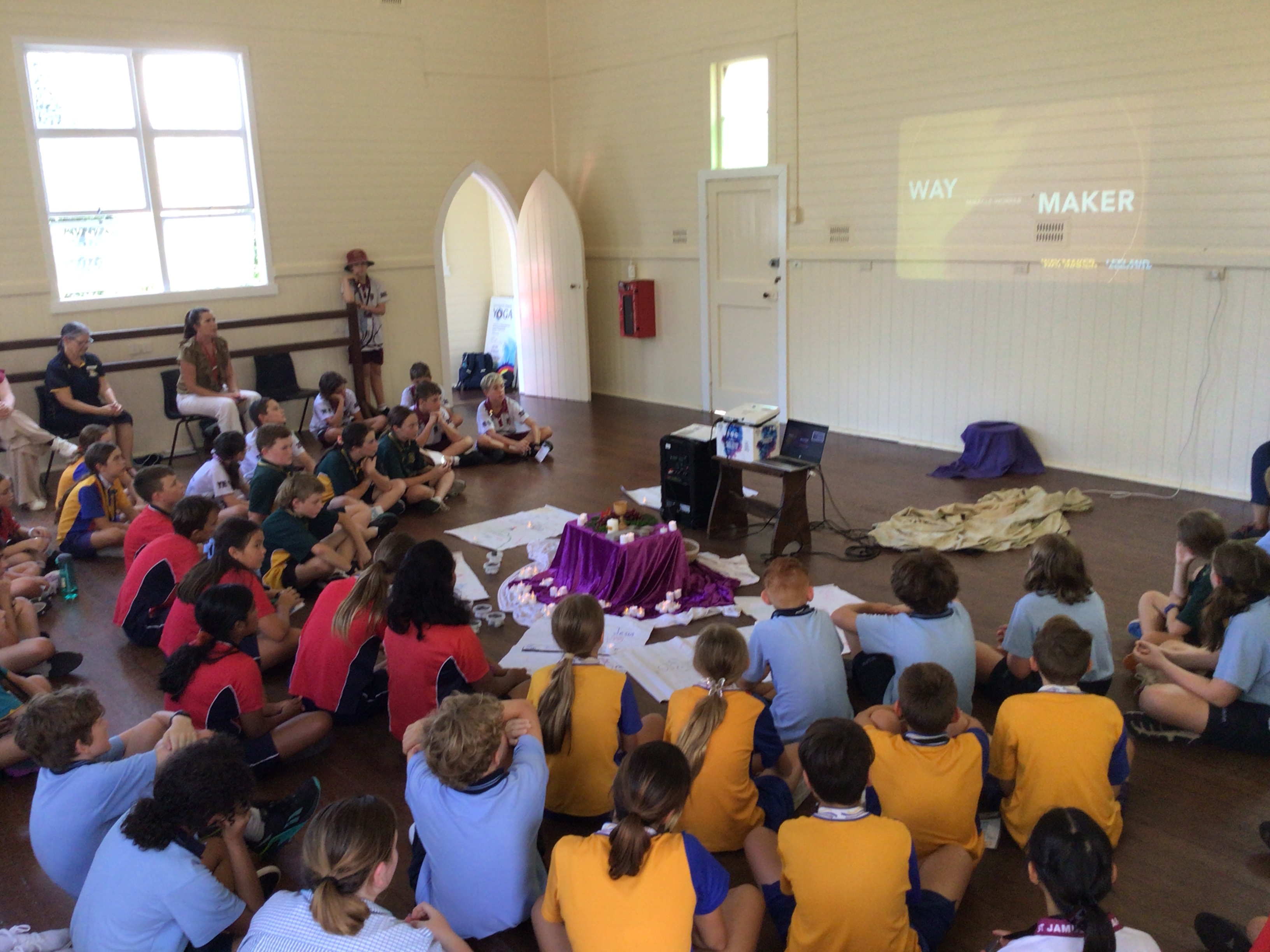 Weekly Award Winners
SOLAR BUDDY FUNDRAISER
On behalf of the Year 5 students, we would like to thank our St Ambrose community for your incredible generosity towards our Solar Buddy Fundraiser.
Last week we sold jelly cups and freddo frogs to raise money to purchase mini solar lights that we will build and send off to countries living in energy poverty such as Papua New Guinea.
With the donations from families, we were able to raise over $1600! This means we have been able to purchase 50 lights!
Thank you again for supporting this wonderful cause!
K-2 Easter Hat Parade
Our annual K-2 Easter Hat Parade will be held on Thursday 6th April. This is the time of year to put on your creative thinking caps and start designing and making an Easter hat for your child to wear in the parade on this day. All are welcome to come and attend the parade which will begin at approx.9.15am after class rolls are marked.
Students will participate in a class Egg Hunt throughout the day. These will be Cadbury Milk Eggs and distributed at the end of the hunt to students. If your child is not able to eat the eggs please contact your child's teacher on Compass.

Gardening Club Volunteers Needed
We are looking for parents / friends who would like to assist students with our gardening club. Tuesday's 10.55am - 11.45am. It entails looking after our vegetable gardens, propagating seedlings in our green house, planting, pruning etc. If you have a "green thumb", or even if you don't but would like to assist please contact Mr Jeff Bottle via the school office.
Sports News
Upcoming events update:
Event

Date

School Cross Country

Friday 24th March

Zone Cross Country

Friday 5th May

Blind Cricket Program All Year 3-6 students

Wednesday 24th May

Wednesday 7th June

Wednesday 14th June

AFL Gala Day

Tuesday 30th May
Dio Swimming
We would like to congratulate a number of students who traveled down to Kempsey for the Diocesan Swimming Carnival.
Imogen - 4th Senior Girls 50m Backstroke and 6th Senior Girls 50m Butterfly
Isaac - 7th 11 yrs Boys 50m Freestyle
Sam - 6th 11 yrs Boys 50m Breastroke
Grace - 7th 11 yrs Girls 50m Breastroke
Oliver - 10th 11 yrs Boys 50m Backstroke
Braxton - 2nd 9 yrs Boys 50m Freestyle
6th place Senior Girls Relay - Imogen, Ava, Rosie and Susannah
Winter Sports
Congratulations to the following students who have been selected in the Lismore Diocese team for their chosen winter sport. These students trailed last week down in Grafton, and are now heading to Tamworth at the beginning of Term 2 to trial against all the other Catholic Primary schools in NSW.
We wish these boys and girls the best of luck!
U11s Rugby League
Duke Mactaggart
Isacc Lloyd
U12s Rugby League
Lucas Singh
Girls Soccer
Rosie Redpath
CONGRATULATIONS BEN
Ben in Year 6 has been named the winner of the 12U boys Rafa Nadal Tasmania. Ben will now be heading to the Rafa Nadal Invitational Masters in Melbourne January 2024. At this event Ben will meet Rafa and have a coaching session with Carlos Moya (Rafa's coach)....Ben is super excited. We can't wait to see what your future holds Ben!
Everyone at St Ambrose wishes you GOOD LUCK!!
SORA Online Books
School Fair
Thank you to the school community for your continuous support with the Fair. It is shaping up to be a huge successful event this year!

FREE DRESS DONATION DAYS ARE:

Wednesday 22nd March: Plant, Lolly, Chocolate Stall Donations
Friday 31st March: Cake & Jam Stall Donations
We are so excited to have Miss Vietnam joining us at our St Ambrose Community Fair with her delicious selection of mouthwatering food!
St Ambrose Primary SchoolSaturday 1st April 2pm-7pm

FB Tag https://www.facebook.com/missvietnamkitchen
Insta Tag https://www.instagram.com/missvietnamkitchen/



RIDES INFORMATION

Click here to book your unlimited rides pass – discounts for pre-purchased ride passes.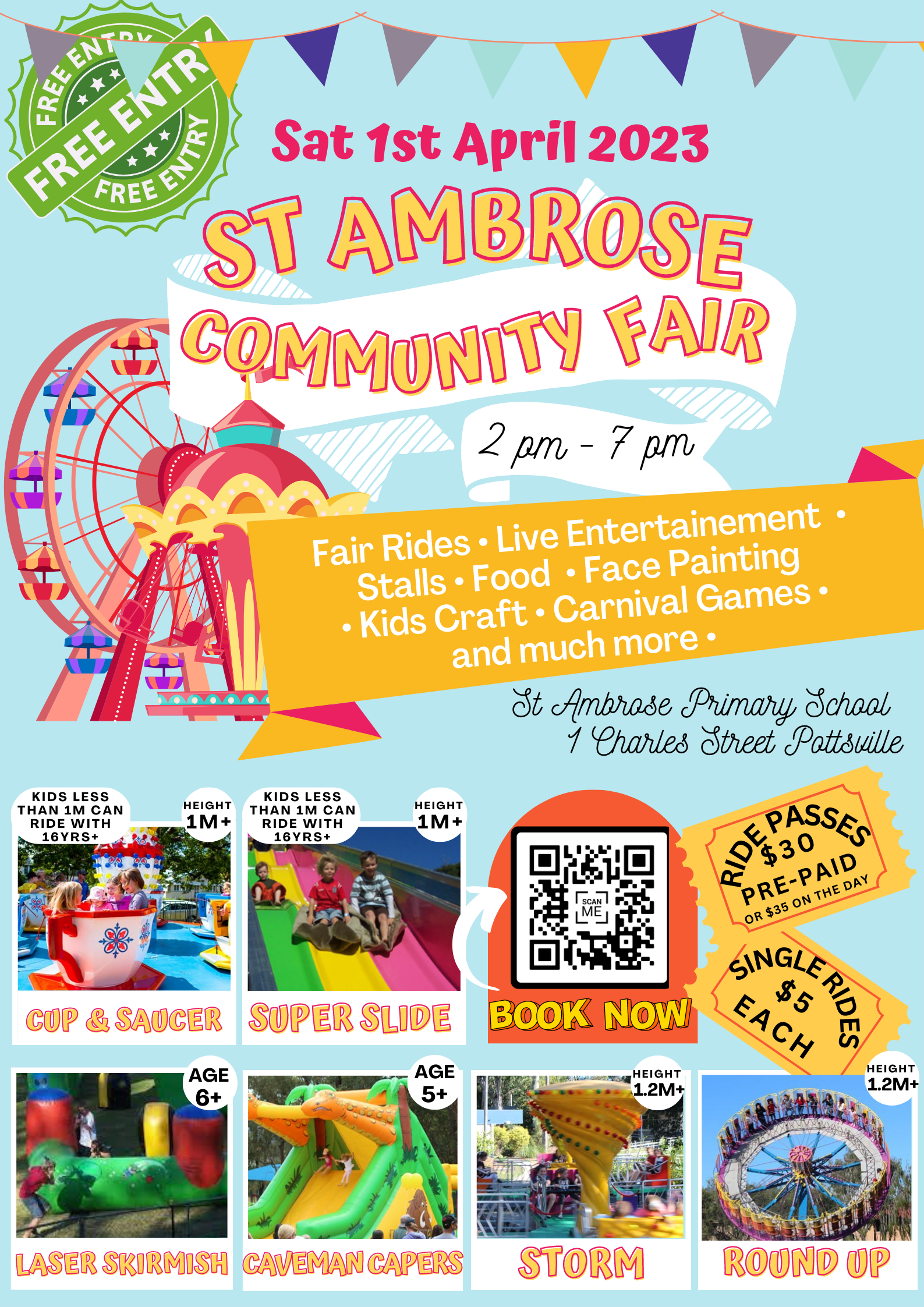 Little Grommets St Ambrose Pottsville April Holiday Program
We have just released the vacation care program for these April school holidays.
You're welcome to start making booking request for the dates required.
Booking request can be made via -The Xplor Home app - Creating Bookings – Xplor (ourxplor.com)
You will receive a confirmation notice when approved. If a rejection notice is received, this means we have reached capacity for that date, and you will be added to the waitlist.)
Email - admin@grommetsooshc.com.au
Text Message - 0411 199 049 (office) 0477 670 320 (service)
This way it helps us keep track of the bookings.
If you have any questions, please reach out.

Thank you,
Little Grommets St Ambrose Pottsville
Community News