2023, Term 1, Week 9
Principal's Message
Dear Families,

There is great excitement within the school with only one sleep to go, until the SCHOOL FAIR commences. The FAIR is shaping up to be a fantastic event with rides, stalls, displays, music and so much more going on. A HUGE thank you to all those fantastic helpers who have worked so hard in the planning and organisation of this great community event. The contributions of plants, lollies, jars, cakes has been overwhelming - thank you! The FAIR commences at 2.00p.m and concludes at 7.00p.m. A running sheet of 'stage" items is available in the newsletter, Iook forward to seeing you all there!

Over the last week some of the students from St Ambrose received the sacrament of Reconciliation. Congratulations to these boys and girls.
Our Yr 6 students went to Mt St Patrick College for a "taster day", some students were involved in "esports" and the Stage 3 students had a STEM SHOWCASE DAY.

On Friday we welcomed a number of local residents into the school and conducted a "Living Library" morning. This is an opportunity for some of our senior community members to come into the school and share some of their life stories with the children. These include stories of what school / classrooms were like, local history, memories of their childhood, sharing / showing photos and various items. It was a wonderful morning and we sincerely thank all those who assisted.

Last Tuesday ten students from Years 4-6 travelled to Hastings Point to represent St Ambrose at a Probus meeting. The students spoke about how technology is used in the school, significant changes in education, excursions, extra curricula activities, community engagement and the Music programme. It was a fantastic opportunity to represent our school and reach out to the wider community.
Our Cross Country was held on Friday with the Purple House winning the shield for the first time! Thank you to all our students, volunteers and spectators for making the event such a success.
Next week is our last week of Term. All staff and students finish on Thursday 6th April, the day will start with our K-2 Easter Hat Parade. I look forward to see all of the creative designs! The fun will continue throughout the day with Easter eggs hunts for all K-6 classes.
In Term 2, staff return on Monday 24th April for a professional development day. Tuesday 25th April is ANZAC Day and all students are encouraged to March with the school, our school Drumline will lead. All students commence Term 2 on Wednesday 26th April.
I wish all families a lovely Easter break!

Brian Laybutt
Principal


Friday Assembly: 4 Gold
Religious News
Holy Week
Sunday 2nd April begins our journey into Holy Week with Palm Sunday of the Passion of the Lord. Jesus' royal entrance into the holy city of Jerusalem was also an entrance into the mystery of his suffering, Death, and Resurrection. As we enter this holiest of weeks with Christ, may we draw into deeper union with Him and with one another.
On Thursday 6th April we enter into the most Holy Triduum with the Church throughout the world. It is the Passover of the Lord Jesus, and we pray to know the power of Jesus' dying and rising in our lives. John's Gospel presents Jesus washing the feet of his disciples, this is the mandatum and deepest meaning of Eucharist: to become one with Christ, blessed, broken, and shared out of love.
Good Friday 7th April is not only about remembering the suffering and crucifixion of Jesus as a past event but about immersing ourselves in the saving mystery of Christ present among us today.
Together, we hold the Death of the Lord in our hearts and draw new life from the holy Cross by which he continues to redeem our world.
Easter Sunday, 9th April – The Risen Lord. Jesus' resurrection confirms his divinity; the risen Christ is the principle and source of our future resurrection. He does not only rise to a "glorious" life for himself but he also shares this new life with all sons and daughters of the Father in the Holy Spirit.
Holy Saturday, 8th April, on this night, in the midst of the new fire, it is sung "The Light of Christ," and we reply, "Thanks be to God". In the church we hear the stories of God's saving love throughout history. In this vigil we are renewed to tell the story of God's victory over death by how we reflect the light we received in Baptism.
SACRAMENT OF RECONCILIATION
Congratulations to all the children who made their First Reconciliation last Tuesday evening. A big thank you to all the parents and families who attended this evening, supporting their child/ren on this special event. We are now excited for these children to make their First Holy Communion towards the end of Term 2.
Year 4 students who completed the Sacrament of Penance in Term 1 will now complete the Sacrament of Holy Communion.
They will attend a parent/child meeting in week 3, Monday 8th May at 6:00pm at School. Following this the students and their family will attend a commitment Mass of their choice over the weekend of 20th and 21st May. Students will then have the opportunity to make their First Holy Communion at a Mass of their choice over the weekend of
18th June or weekend 24th or 25th June.
(If your child is in Year 5 or 6 class, Baptised Catholic and have made their Reconciliation but have not yet made their First Holy Communion and you wish them to please email the school. with your child's name and this request.)
H O L Y W E E K A N D E A S T E R
C E R E M O N I E S
Palm Sunday 2nd April: Vigil Mass and blessing of palms KINGSCLIFF - 6:00pm
POTTSVILLE - 7:30am KINGSCLIFF - 9:00am
Holy Thursday 6th April: The Mass of the Lord's Supper KINGSCLIFF - 7:00pm
Good Friday 7th April: Stations of the Cross POTTSVILLE - 9:00am KINGSCLIFF - 10:30am Celebration of the Passion of the Lord KINGSCLIFF - 3:00pm
Holy Saturday 8th April: Easter Vigil KINGSCLIFF - 7:00pm
Easter Sunday 17th April: POTTSVILLE - 7:30pm KINGSCLIFF - 9:00am
Please refer to the St Anthony's Parish Bulletin for further information
Weekly Award Winners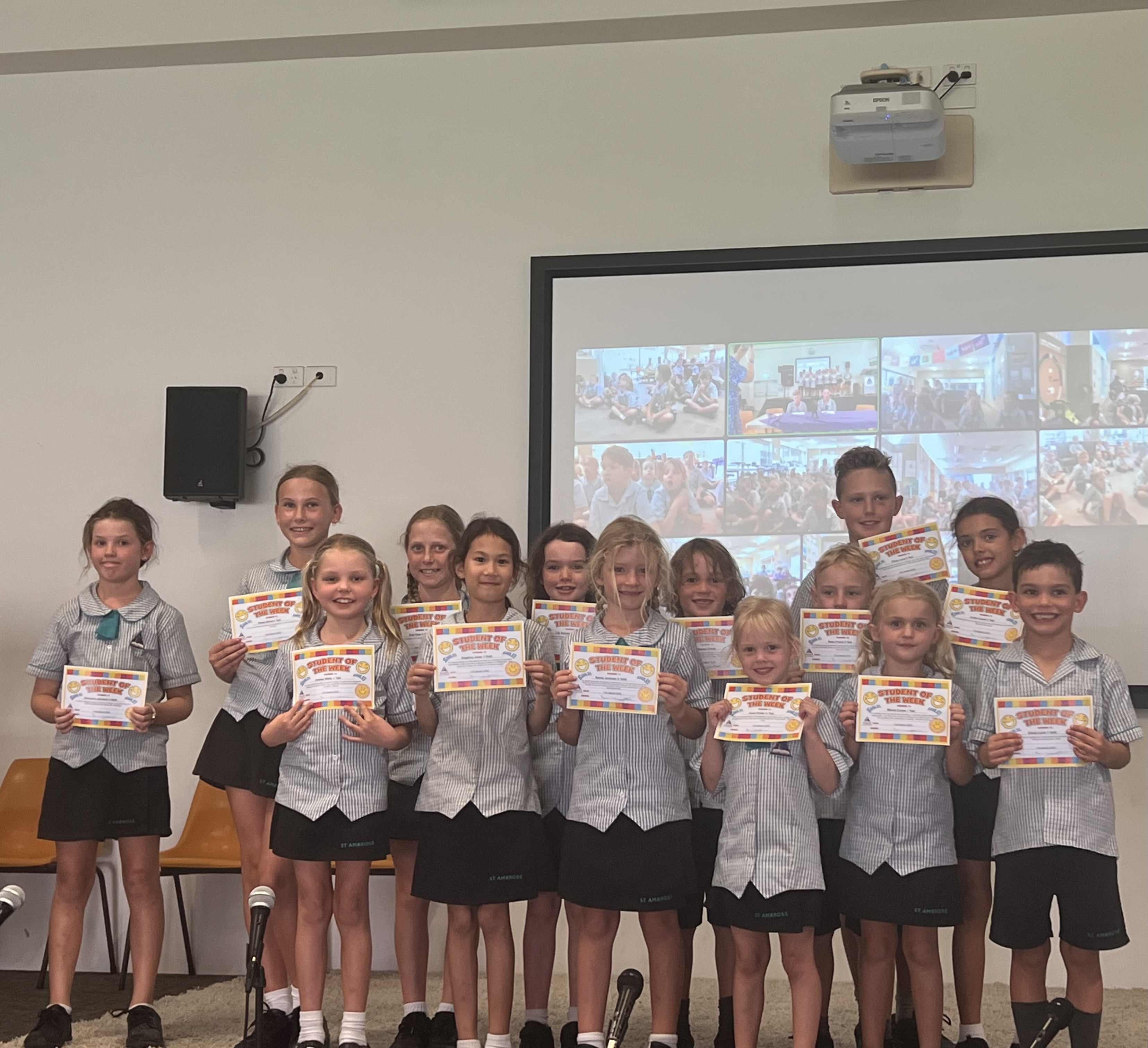 Year 2 Excursion- Pottsville Bridge
On Tuesday, March 21st, Year 2 walked to the Pottsville Bridge where they observed and collected scientific data. Students observed the purpose and structure of the bridge by drawing scientific diagrams.
Students spent some time sitting on the grassy area across from the Pottsville Bridge where they looked at the features and materials the Bridge was made out of. They were able to name the type of bridge- beam bridge and also could describe the purpose of the bridge.
Students will now be using the data they collected to design and make their own bridges.
It was a great morning out observing the local area and students had lots of fun. Thank you to the parent volunteers who were able to take time out of their busy schedules to ensure we had a safe and enjoyable excursion.
STEM MAD
On Thursday, Stage 3 held a STEM MAD Science Showcase. Year 5 and 6 students have been working hard in their STEM groups to develop an innovative idea to address real-world problems and demonstrate the particularity of Catholic Schools. STEM MAD has encouraged us to make a difference (MAD) in the world by acting for justice and the common good. The STEM MAD Student Showcase is a celebration of our learning designed to acknowledge and promote STEM learning initiatives. Thank you to all the parents and students who came in to listen to our ideas.
Probus Club Presentaion
On Tuesday 21st March Grace McMahon and myself along with 10 students attended the Probus Club of Hastings Point Tweed Heads. We spoke about the history of our School and Parish. The students presented what technology looks like at St Ambrose, how the Green Team works, the many facets of our music programs and how St Ambrose supports and encourages community engagement. We finished off our presentation with Maya Shackell singing a couple of songs.
The adults from the Probus Club were very impressed with our students and loved what they saw and heard
The students had a wonderful time and represented our school living our values of being Respectful, responsible and courageous. We were extremely proud of them. Thank you Annabelle, Bronte, Ella, Chase, Evangeline, Parker, Arabella, Sage, Alexander and Maya.
MY SCHOOL UPDATED FOR 2023
The My School website has been updated for 2023 with new profile information on schools and the latest school-level NAPLAN data.
From the Australian Curriculum and Assessment Reporting Authority (ACARA) CEO, David de Carvalho, "My School provides data on schooling right across Australia, helping parents, schools and governments to understand the performance of schools."
"It's an important resource for parents to make informed decisions about their children's schooling. As well as providing an overview of approach and focus of the school, parents and carers can also find information on student and teacher numbers, attendance rates, financial information and NAPLAN results.
"It also provides teachers with important insights into school performance, supporting and driving improvements across the nation."
The 2023 My School update includes the following:
2022 school profile and population data
2022 school attendance data
2022 NAPLAN results for schools
2021 school financial information, including capital expenditure and funding sources
2021 post-school destinations data.
Student progress data for 2020 – 2022 is not available following the cancellation of NAPLAN in 2020 due to the COVID-19 pandemic, however, parents can still view NAPLAN performance data relative to Socio-Educational Advantage by school on the NAPLAN results page.
My School's Index of Community Socio-Educational Advantage (ICSEA) indicates the average educational advantage of the school's students and is calculated using information about a parent's occupation and education, school geographical location and the proportion of Indigenous students. A school's ICSEA value is provided to encourage taking socio-educational advantage into account when comparing school achievement.
My School shows a decline in students' attendance during Semester 1 and Term 3 2022, but this can be attributed to the impacts of the COVID-19 Omicron outbreak, high influenza outbreaks and floods experienced in some regions of Australia during that time.
To have a look at our profile and results, go on the My School website and enter the full St Ambrose Catholic Primary School, Pottsville in the search field.

Chelsea Carter
Assistant Principal- Learning & Teaching
Kimberley Mathewson
Leader of Pedagogy
Free Parent/Carer Online Headspace Workshops
Youth mental health outreach service, headspace is hosting free webinars for parents and carers who are supporting young people with their mental health during the school holidays. The session aims to:
Identify challenges and opportunities of the school holiday period

Offer practical ideas for parents and carers

Provide information about additional support services

Highlight the importance of self-care
Click the link below to register for this free webinar.
REGISTER HEREhttps://www.eventbrite.com.au/o/headspace-nsw-parent-and-carer-sessions-34085927895


Administering Non-Prescription Medication (eg. Paracetamol) to Students - Reminder
A reminder to parents that when a student present to the (school office/administration/sick bay) and is feeling unwell or experiencing significant or acute pain, a member of staff will contact their parent or guardian seeking permission to administer non-prescription pain relief (eg. paracetamol). If a parent or guardian can not be contacted, the student will stay in (school office/administration/sick bay) however we will not be able to give them any non-prescription pain relief medication. Any previous permission to give non-prescription pain relief no longer applies. You will receive a phone call each time your child presents to the (school office/administration/sick bay) seeking consent.
K-2 Easter Hat Parade
Our annual K-2 Easter Hat Parade will be held on Thursday 6th April. This is the time of year to put on your creative thinking caps and start designing and making an Easter hat for your child to wear in the parade on this day. All are welcome to come and attend the parade which will begin at approx.9.15am after class rolls are marked.
Students will participate in a class Egg Hunt throughout the day. These will be Cadbury Milk Eggs and distributed at the end of the hunt to students. If your child is not able to eat the eggs please contact your child's teacher on Compass.

Wellbeing
SORA Online Books
School Fair: Information, Sponsors and Run Sheet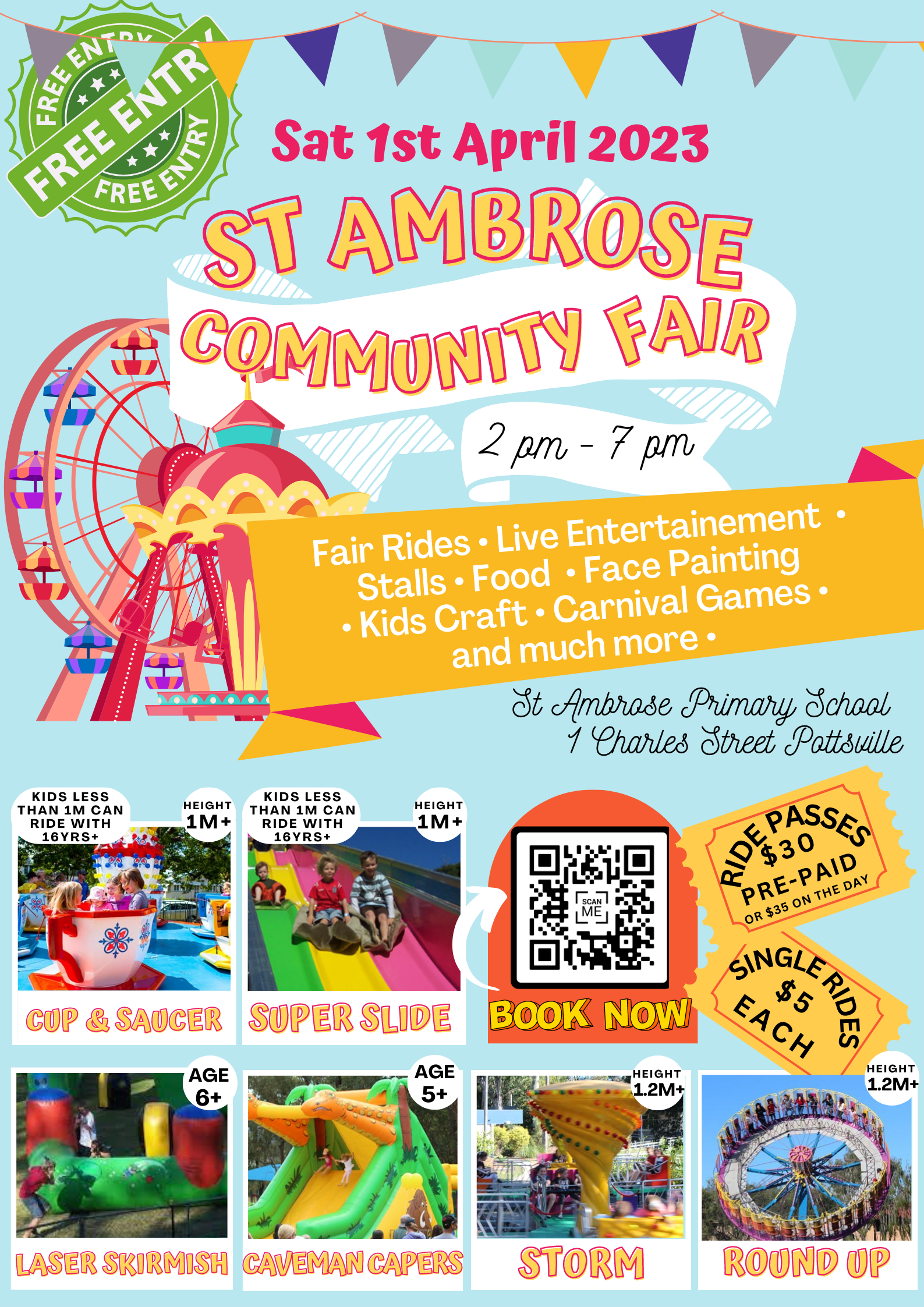 DON'T FORGET YOUR RIDE TICKETS

Click here to book your unlimited rides pass – discounts for pre-purchased ride passes.