2023, Term 2, Week 6
Principal Message
Dear Families,

As always a great deal has been happening at St Ambrose. Over the last week we have had 3 teams represent the school at a AFL gala day at Byron Bay, our Yr 4 students participated in a Retreat Day with students from St Joseph's College, Banora Point assisting, Yr 5 saw a "Waste Not" live performance and learnt how to make some "bee wax wraps".

Trials for our school netball teams are currently underway as is preparation for our upcoming school athletics carnivals. Students are also preparing for our upcoming Public Speaking competition and amongst all this we managed to squeeze in a School Lockdown drill.

This week was National Reconciliation Week and students participated in a variety of activities to acknowledge this year's theme, " Be a Voice for Generations".

This year all Primary Schools across NSW have introduced a new English Syllabus within K - 2 classrooms. In 2024 the syllabus will be introduced to Yrs 3 - 6. The focus areas for each stage support students' growing knowledge and understanding in the areas of:
Oral language and communication.

Vocabulary.

Reading fluency.

Reading comprehension.

Creating written texts.

Spelling.

Handwriting and digital transcription.

Understanding and responding to literature.

Teachers at St Ambrose have been working extremely hard in ensuring that this syllabus is fully embedded within the classrooms.

In particular I draw your attention to the first dot point, " Oral language and communication". As a school we cannot stress how important it is that your child fully engages in conversations, is encouraged to speak clearly, fluently and with purpose. Whilst we certainly encourage this at school (e.g. using a full sentence when answering a question) this must be taught and reinforced at home. Discourage one word answers, shrugging of shoulders, no response etc!! If you ignore it, this is seen as acceptance of the behaviour! Many children have lost this ability as they simply don't converse enough at home or spend far too much time on digital devices that prohibit speech. It is so important that children (and adults) foster language by simply having conversations!!

Hopefully you are enjoying the magnificent weather we have been having and are spending time with your family.

Have a great weekend.

Brian Laybutt
Principal
Weekly Assembly
Special Awards
Religion
SUNDAY 18th June
STS MARY & AMBROSE CHURCH, POTTSVILLE
SCHOOL FAMILY/ PARISH MASS CELEBRATION 7:30am
We hope to see many St Ambrose families at this Mass celebration
At this Mass celebration staff from St Ambrose will be attending to the ministry duties and there will be children's liturgy.
There will also be 14 of our students making their First Holy Communion at this Eucharistic Liturgy. We congratulate and pray for these children.
This Sunday 4th June the Church celebrates the Most Holy Trinity.
Trinity Sunday is the first Sunday after Pentecost to honour the Holy Trinity—the Father, Son and Holy Spirit.
Trinity Sunday focuses on the doctrine of the Trinity as the Christian belief that there is one God, who is Father, Son and Holy Spirit.
Other ways of referring to the Trinity are the Triune God and the Three-in-One.
'The God of Love and Peace be with you!'

One God, three persons united in a constant flow of love and tenderness! On this feast of the Most Holy Trinity, we are all invited to be drawn deeper into the rhythm of this eternal dance of love.
Year 4: The Eucharist/Holy Communion Retreat Day
On Thursday the Year 4 children celebrated a lovely retreat day together. They were involved in many art and craft activities connected to their learning from their Religious Education Unit: Eucharist: Jesus is with Us. We are very grateful for
Tom Nguyen the Youth Ministry Officer and the Year 9 ministry students from
St Joseph's College in Banora Point, Sebastian(Seb), Zac, Olive and Harriet who came to help us on the day. We finished off the day with a lovely prayer service, thank you to the parents who joined us for this celebration. A big Thankyou to Mr Townsend who picked up our pizza orders from Domino's for our lunch.
LOOKING FOR THE PERFECT FIRST HOLY COMMUNION GIFT?
Look no further than the piety stalls at both Kingscliff and Pottsville Churches. A beautiful selection of giftware is available including rosary beads, jewellery, Mass books and cards. These lovely gifts are perfect for First Holy Communion and Confirmation. Kingscliff Piety stall can now accept 'tap and go' card payments.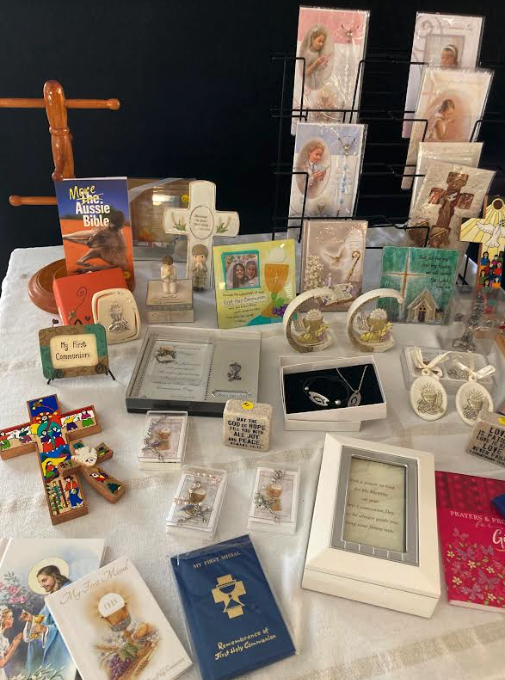 Sports
Term 2, Week 6
Dio Cross Country
In week 5, we had 8 students attend the Diocesan Cross Country down in Grafton. The course presented some extremely challenging conditions and a few huge hills. All of the boys and girls that represented St Ambrose tried their best and had a fantastic day. Thank you to all the parents that drove students down. Congratulations again to Jasmine, Eva, Eden, Maddie, Sam, Jax, Ben and Sophia.
AFL Gala Day
Last Tuesday we had 55 students represent St Ambrose at the AFL Gala Gay down in Byron Bay. Everyone involved enjoyed their day out at the Gala Day.
There were 15 girls in the team from Yr 4 to Yr 6. The girl's team lost 2 games and won 1 game which meant they had come 4th overall. The girls played with great team spirit and should be proud of their efforts.
The two boys' teams played wonderfully too. The gold team won all 3 of their games resulting in a 3rd place finish overall on the day. The Teal team played 3 excellent games and won 1 and lost 2, resulting in a 6th place finish overall. It was a fun day for everyone.
Thank you to Mr Townsend, Mr Palamara, and Mr Lock for holding training sessions for the girls and boys who played on the day.
And a huge thank you to Damien who helped coach the girl's team and taught us the skills we needed for AFL.
Netball NSW Cup
We have had an overwhelmingly positive response from students wanting to be involved in the Netball NSW Cup next term. This past week we have been holding trials for the competitive Year 5/6 teams. We are hoping to finalise those over the coming week.
We will be calling for parent helpers and umpires on the day. Every team will need a parent helper and umpire. If you are able to assist please notify Miss King.
NSWPSSA AFL
Jacob Schutt attended the NSWPSSA AFL Competition down in Bateman's Bay at Hanging Rock Oval. The Polding Team played 7 games throughout the 3-day tournament. Jacob's team was named the most successful Polding Team of all time. We congratulate Jacob on this fantastic achievement.
K-6 Public Speaking!
This term we have our School Public Speaking. Next week, teachers will send out the guidelines and criteria. Key dates are outlined below.
Weeks 5-6: Students write and practice their speeches at home for homework.

Monday Week 7: In-class public speaking commences. Students from each year level (K-6) are chosen to compete in the finals.

Tuesday Week 9 (20th June): School Public Speaking Finals Evening. Students present in stages (Early Stage 1 Kindergarten, Stage 1 Years 1 & 2, Stage 2 Years 3 & 4, Stage 3 Years 5 & 6).
If students do not wish to present their speech in class they can film this and upload this to Seesaw. If they choose to do this they are not eligible to compete in the finals.
Chelsea Carter
Assistant Principal- Learning & Teaching
Kimberley Mathewson
Leader of Pedagogy
Winter Appeal
Apple Technology
Community News
Congratulations Taylen Howard
The NSW Junior Track Championships for 2023 were held at Macleay District Motorcycle Club over the weekend, where Taylen Howard competed in two classes, 65cc 9 - U13 yrs and 85cc 2 stroke & 150cc 4 stroke 9 - U13yrs. Racing consisted of 5 rounds on the oil long track. Taylen was undefeated all day on both motorbikes winning 10 races and taking out the NSW Title in both divisions.
Well Done