2023, Term 2, Week 8
Principal Message
STUDENTS BRINGING PRIME DRINKS TO SCHOOL!!
PRIME Energy is intended as an energy drink, similar to Red Bull or Mother. The drink itself is low in kilojoules, with 84kJ it does however have 200mg of caffeine per 355mL can. This is equivalent to 6 times the amount of caffeine in a 375mL can of Coke, and double that in a can of Red Bull.
The bottom line
PRIME Hydration and Energy drinks state on their labelling that children aged 15 and 18 years old respectively should not consume these drinks.
As a school we are discouraging parents from allowing children to bring any energy drink or soft drink to school.
ATTENDENCE GRAPHIC
Weekly Awards
Religion
THIS SUNDAY 18th June 2023
STS MARY & AMBROSE CHURCH, POTTSVILLE
SCHOOL/PARISH FAMILY MASS 7:30am MASS
We will have a number of our students from School making their First Holy Communion at this Mass
At this Mass celebration staff from St Ambrose will be attending to the ministry duties and there will be children's liturgy.
We HOPE TO SEE MANY ST. AMBROSE FAMILIES AT THIS MASS
Term 3 Sacrament of Confirmation 2023
PARENTS WHO HAVE CHILDREN RECEIVING THE SACRAMENT OF CONFIRMAITON THIS YEAR
Please take note of the following dates and commitment involved in the preparation of this Sacrament:
The Sacrament of Confirmation is targeted at baptised Catholics in the Year 3 classes (you will receive an individual invitation through COMPASS in the near future to register your child.)
however,
If your child is baptised a Catholic and is in Years 4 – 6 but has not yet received the Sacrament of Confirmation and you wish them too, please send an email/note to the office informing me. By the Friday 23rd June.
Commitment to this Sacrament involves: (please take a note of the dates)
Attending

a parent/child meeting

on

Monday 28th August

at St Ambrose Primary School (Week 7, Term 3) at 6:00pm in the year 3 classrooms.
(or Wed. 30th August at St Anthony's Primary School at 6:00pm in the year 3 classrooms.)
Attending a

Parish/School Mass

on the

weekend of 10th September

, as it is a commitment Mass to this Sacrament whereby your child will have a small activity to participate in

Working through a variety of home tasks.
Attending the

Confirmation Celebration at 6.00pm on Wednesday 11th October (Term 4, Week 1) at St Anthony's Church, Kingscliff.
If you have any queries, please do not hesitate to speak to me.
Thanking you for your support in the preparation of your child receiving the Sacrament of Confirmation
Sue Falcke
Assistant Principal Mission
LOOKING FOR THE PERFECT FIRST HOLY COMMUNION GIFT?
Look no further than the piety stalls at both Kingscliff and Pottsville Churches. A beautiful selection of giftware is available including rosary beads, jewellery, Mass books and cards. These lovely gifts are perfect for First Holy Communion and Confirmation. Kingscliff Piety stall can now accept 'tap and go' card payments.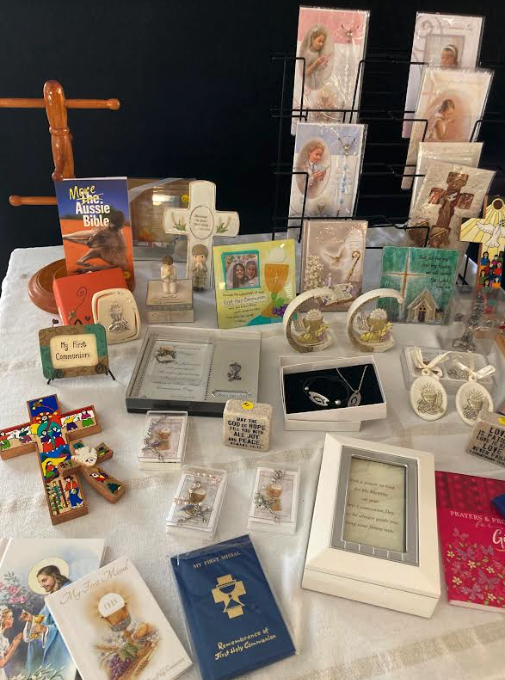 Murwillumbah Eisteddfod
On Wednesday and Thursday of this week, students in Years 1, 3 & 5 competed in the Murwillumbah Festival of Performing Arts which was held at the Tweed Heads Civic Centre. The students have been working with Mrs Hogan during drama to prepare for this event.
It was a fun day full of nerves and excitement and we gained the following results:

5G The Thong - 3rd place
5T Voices of the Wind - 3rd place
1G - Chewing Gum - Participation Ribbon
1T - Watch Your French - Highly Commended
3G - A Tale of Two Giants - 2nd place
3T - The Clock Maker's Shop - Participation Ribbon

Well done to all the students involved - you did St Ambrose Proud.

St. Helena - Year 4 Excursion
On a glorious sunny day, Year 4 embarked on an exciting excursion to St. Helena Island, nestled in the serene waters of Moreton Bay. The anticipation was palpable as the students eagerly explored the historic island, renowned for its convict past. From the moment they stepped ashore, the island's rich history came alive, captivating the young minds of Year 4. Guided by knowledgeable park rangers, the students delved into the tales of convict life, discovering the harsh realities faced by those who were once imprisoned here. They wandered through the remnants of the penitentiary, marvelling at the well-preserved structures and gaining a deeper understanding of the past. Along the way, the students learned about the island's natural beauty, spotting a variety of wildlife and immersing themselves in the island's unique ecosystem. As the day drew to a close, Year 4 returned with a sense of awe and newfound knowledge, their excursion to St. Helena Island serving as a memorable and enlightening experience.
K-6 Public Speaking!
Winter Appeal
Apple Technology
Wellbeing