2023, Term 3, Week 5
Principal Message
Dear Families,
Over the next couple of weeks, many sporting competitions will come to a conclusion. I trust all those who have taken part in some form of sport have had a wonderful season, win, lose or draw! It is wonderful to see so many children engaging in sports as it truly promotes a healthy lifestyle and life skills of resilience, perseverance and commitment. With most clubs they rely on dedicated volunteers who give up their time to coach, manager, work in canteens, set fields up etc etc. Having been involved in sporting clubs most of my life I have a simple phrase that I often use - "Hand Up, Not Out" !! As parents, how often do we put our hand up to volunteer and to help out ? Or do we just put our hand out, expecting things to be done and for others to do it for us! Or even worse criticise those who are doing their best, club officials, referees / umpires, coaches etc. To those who put their hand up, thank you, not only for what you do for your child but what you do for other children, families and the community. By volunteering you send a clear message that you are part of a community and that we all need to pitch in and support one another.
The well known saying, "It takes a village to raise a child", is so true and so relevant to today. We need to ensure that children do not take things for granted, they do not feel that they are "entitled" and importantly are grateful for the opportunities that they are given. If you are starting a summer activity or are looking forward to next year's season already, ask yourself, how can I help?

Many Thanks.
Brian Laybutt
Principal


New Staff
Last week we welcomed our new Drama teacher - Ms Katie Sharp to St Ambrose. On behalf of the school community we trust that your time at St Ambrose will be enjoyable and rewarding.
School Crossing Supervisor
POSITION AVAILABLE
School Crossing Supervisor - Part time - St Ambrose Primary School, Pottsville

St Ambrose is looking for a School Crossing Supervisor.
In this Role, you'll: Become a Road Safety Hero that is held in very high esteem in our communities and vital to the safety of our kids, parents, teachers and local motorists. You'll also grow to be a much-loved familiar face around the school with a unique opportunity to touch the lives of countless families.
St Ambrose Primary School shifts fall between the school zone hours Monday to Friday 8:15 - 9:15AM & 2:30 - 3:30PM, School Crossings require 12 hours of supervising per fortnight.
If you would like more information please contact the school office 02 6676 0099 or email sapot@lism.catholic.edu.au
Religion
THE ASSUMPTION OF THE BLESSED VIRGIN MARY
Holy Day of Obligation
On Tuesday 15 August, we celebrated the
Feast of the Assumption of the Blessed Virgin Mary with a Mass for the students in Years 3 – 6 and a Prayer service for thestudents from Years Kinder to Year 2
This important feast day is celebrated to recognise the Assumption of Mary our Mother into heaven, body and soul, at the conclusion of her earthly life. Mary is a model of faithfulness, love and generosity in whom we should try to aspire our life.

This feast is a celebration of God's great and special love of Mary, who was so faithful to the will of God, that upon her death, she received the fullness of God's life in heaven. She was an ordinary woman who placed her trust so completely in God.Through her life we see the great blessings that can come to us when we believe and trust in God's way.
Confirmation Commitment Parent/Child Meeting and Mass
This a reminder for those who have registered a child through Compass to receive the Sacrament of Confirmation this year you need to attend a Parent/Child Meeting on Monday 28th August at 6:00 pm in the Year 3 classrooms and attend one Parish Commitment Mass the weekend of 9th/10th Sept. Please be sure to put these important dates in your calendar.
Next Tuesday 22nd August the Kinder students will be attending Mass at 9:15 celebrating the Feast of The Queenship of Mary.
Weekly Awards
Year 1 and 2 Incurssion
Last Wednesday, we were thrilled by a visit from The Wildlife Twins. They introduced us to an array of reptiles: we saw and even touched a blue-tongue lizard, a black-headed python, a green diamond python, and a lace monitor. To our surprise, their scales were incredibly smooth.
A highlight for many students was meeting a wonderful wombat named Ash Barty. We found it intriguing that wombats possess a protective plate on their backside to shield them from predators. Curious about how that works? Just ask us!
We now have a new love of reptiles and wombats and can't wait to write about them.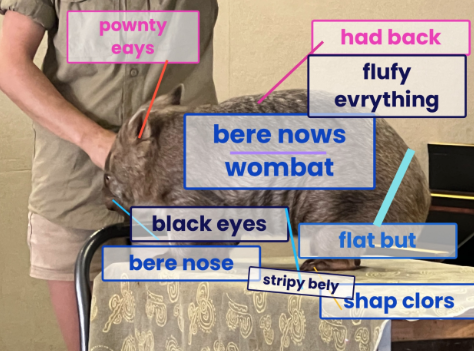 Year 5 Excursion
On Thursday, Year 5 went on a magnificent excursion to Currumbin Wildlife Sanctuary to discover all about animal adaptations. We watched the bird flight show and saw lots of amazing colourful birds such as parrots, eagles, owls, pelicans and cockatoos.
We spent the afternoon with the Sanctuary's volunteers Ryan and Nadia who tested our knowledge of native Australian animals and taught us all about some of their incredible adaptations. We also caught the train to The Lost Valley to see exotic animals such as; red pandas, capybaras, lemmas, monkeys and emus. Thank you to all the parent helpers who joined us. We had such a fun and educational day!
Year 3 Excursion
On Wednesday Year 3 went on an excursion to the Byron Bay Wildlife Sanctuary. We started off by watching a reptile show and we saw a blue tongue lizard and a snake. It was so exciting to get to pat them. Then we watched an amazing bird show and we saw birds fly from person to person. We learnt about birds in the wild and what they need to survive. We went into little groups and got to explore the WildLife Sanctuary. We saw goats, chickens, koalas, guinea pigs, rabbits, big wombats and giant snakes. We enjoyed feeding the kangaroos and emus. We are now going to choose one of these animals for our informative writing this term. We would like to thank all of the wonderful parent helpers that came along, it was such a great day!
By Finn and Fraser
Tweed Public Speaking Competition
Parent Magnets to Support Student Learning.
In the Term 2 Week 2 newsletter, we discussed the critical role of parents/carers in their child's learning. The following 5 questions were suggested to provide opportunities for informative conversations with your child.
What did you learn today?

How did you do?

What did you do if you didn't understand?

How can you improve your learning?

What are you most proud of?
To support parents/carers we have created magnets with this information. You will receive one at the conclusion of your child's 3-way conference. We encourage you to use these to foster learning conversations at home. Staff and students have a similar scaffold they use to enable students to reflect on their learning within the classroom.
Chelsea Carter
Assistant Principal- Learning & Teaching
Kimberley Mathewson
Leader of Pedagogy
Social Media: Are They Old Enough
Social Media: Are They Old Enough?
While the internet offers incredible opportunities for children to access information and connect with others, it's important for parents to teach them how to navigate online environments safely. Without proper supervision and understanding of concepts like privacy, children may face negative experiences that can impact their well-being.
Wait Till 13
One common question that arises is when your child should have a social media account.
Most social media platforms, including Instagram, Snapchat, TikTok, and Facebook, require users to be at least 13 years old to register. Following these guidelines, we recommend that no primary-aged child should have their own social media account. As a school community, we kindly request that you protect your child by allowing them to access social media only under your account and supervision.
After they are 13, take into account your child's:
Maturity

Resilience

Understanding of the impacts of social media.
Saying No
Safeguarding your child's confidence and self-worth during their primary school years is crucial, and social media can have negative consequences on your child's developing identity. We encourage you not to let the online environment distort this important phase of their development. Stay strong and resist the pressure to introduce your child to social media when they are too young.
Together, let's empower our children to explore the digital world safely while preserving their well-being and fostering a positive sense of self.
Learn about the latest games, apps and social media use for children in The esafety Guide.
Sports
Rugby League
Amidst the rugged fields of the Rugby League Gala Day, an impressive contingent of 54 students, divided into four teams, came together to showcase their prowess and sportsmanship. The day was divided into two exciting segments – the 10s non-competitive tournament and the 12s competitive tournament. Two of our teams engaged in the 10s, engaging with the game's essence without the pressures of competition, while the other two squads fiercely contested in the 12s category. Notably, our St Ambrose Teal team demonstrated their grit and skills, securing an admirable 4th place overall and an outstanding 2nd place in their pool. The collective effort and dedication of these young athletes were fortified by the invaluable support of parents who lent a helping hand behind the scenes, underscoring the importance of community in fostering such remarkable sporting events.
Netball
The sun-drenched fields of Arkinstall Park were a lively hub of activity as a vibrant group of 150 enthusiastic St Ambrose students gathered for the eagerly anticipated Netball Gala Day. Laughter and camaraderie filled the air as the young athletes from various schools immersed themselves in the world of netball. Throughout the day, they not only embraced the spirit of healthy competition but also embraced the opportunity to expand their horizons by learning new rules and tactics of the game. Amidst the spirited matches and friendly rivalries, bonds were formed and friendships flourished, as the shared passion for netball united these young minds.
We would like to thank all parent helpers who assisted on this day. We would be able to send these students without your assistance.
Diocesan Athletics
On Tuesday 15th August 9 students and their families travelled down to the International Sports Stadium in Coffs Harbour to compete in the Diocesan Athletics Carnival. We had students competing in both track and field events. A huge congratulations to the following students on their results:
Billie Cantrill

4th - 9yr old 100m sprint

Leo Shaw

7th - 9yr old 100m sprint

Eden Hamilton

8th - 10yr old 100m sprint

3rd - Jnr 200m sprint

5th - Jnr 1500m race

Eva Gudsell

11th - 10yr old 100m sprint

Archie Ings

7th - 10yr old 100m sprint

Jnr Boys Relay - Sam, Jax, Leo, Archie

8th place

Lincoln Greensill

5th 11yr boys shot put

Marlin Lynch

Finalist 12yrs Long jump
A huge congratulations to Archie and Eden who have been chosen to travel to Sydney for the Polding Athletics.
Congratulations to Tweed Zone on winning the Paddy Dent Shield once again this year.
Sport Electives
In Term 4 students in Years 3-6 will be able to select a sport elective to focus on for 5 weeks. Sport Electives commence Monday 24 October Week 3 and run for 5 weeks (13th November - Week 7). An email has been sent out via compass for students to choose up to 5 different preferences. The portal to select preferences will close 22nd of August. Students and parents will find out their selected sport by the end of Week 8. Payment, waivers and permission notes will need to be finalised before, to confirm your place in the elective.
Wellbeing
Parent Forum
Be a Star Volunteer at St. Ambrose Family and Friends Movie Night!
Are you ready to shine and make this year's Movie Night an unforgettable experience? The St. Ambrose Parent Forum is seeking enthusiastic volunteers like you to help us create an even bigger and better event than last year's smashing success!
Date: Friday 8th September
Time: 5:30 PM event start time
Location: St Ambrose Primary School.
How You Can Help:
We have a range of roles available please select the following link and select what area you wish to volunteer for.

Remember, events like these can only go ahead with the dedication of our amazing volunteers. Let's work together, have fun, and create lasting memories for our St. Ambrose family and friends. Thank you for being a star in our community!
For any questions or further information, please don't hesitate to reach out to the Parent Forum – stambrosepf@gmail.com
https://www.eventbrite.com.au/e/st-ambrose-2023-family-movie-night-tickets-667237915567
FATHERS DAY BREAKFAST - EVERYONE WELCOME!!

Come join us on Friday, 1 September at 7:45am for Father's Day breakfast to remind Dad how awesome you think he is and how much you love him.
We will be serving bacon & egg rolls and hot coffees near the canteen between 7:45am and 8:30am and you can sit down with Dad for a celebratory Father's Day breakfast.
Please make sure you RSVP via FlexiSchools. Click here
*No further orders will be accepted after 12pm 30th of August
Community News
Mount St Patrick College - TAS Showcase Invitation
The Department of Communities and Justice - Emergency Foster Care Recruitment

Dear St Ambrose Primary School Community,
The Department of Communities and Justice (DCJ) is urgently recruiting Emergency Foster Carers who can offer short term care for children and young people who can't live with their families at home. We need carers who can provide children and young people with a stable, nurturing and safe environment at a time in their life when they are most vulnerable. Attached is our current recruitment flyer we are hoping you can send out in your next newsletter. If this can also be shared amongst colleagues and staff that would be greatly appreciated.
If you have any questions in regards to our current recruitment, please do not hesitate to get in contact with me on 07 5506 4600 or on my work mobile 0400 516 511
Kind Regards,
Alexandra Trejo |Caseworker- Carer Support
Department of Communities and Justice | Tweed Heads CSC
T 07 5506 4600
E alexandra.trejo@facs.nsw.gov.au
A 98 Blundell BLD, Tweed Heads South, NSW, 2486 |PO Box 6855| DX 20069
Important Message from the NSW Commissioner of Police, Karen Webb APM
Assemblies