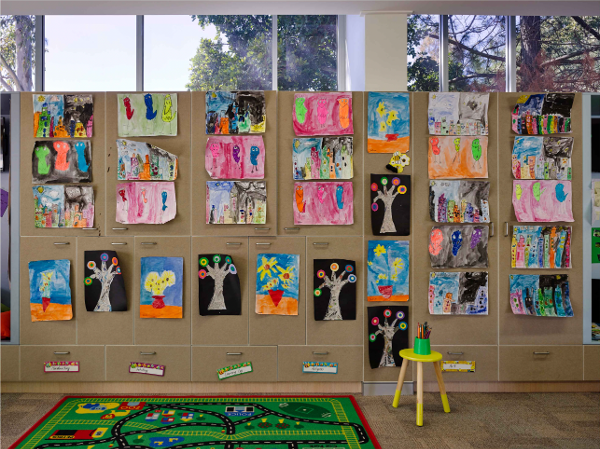 All types of learners and learning contexts have been considered in the design of St Ambrose. We are a school that is built with attention to detail, giving students stimulating and inclusive learning environments. Staff embrace modern learning approaches and work collaboratively as a professional learning community to bring out the best in each child. Teaching and learning are focussed on high-quality instruction and improved student outcomes.
Children thrive in innovative learning spaces. Flexible furniture, the latest Apple technology and unique classroom features have been incorporated to provide an adaptable and enjoyable learning environment. The learning areas including the library, Visual Arts spaces and classrooms have been designed to make the best use of light, space and colour.
Planned with students at the centre, St Ambrose Primary School has been architecturally designed to incorporate the natural landscape into outside learning opportunities. The buildings have been designed around a central courtyard to provide a sense of community. In the gardens, students are immersed in the local ecosystem and help to build a sustainable future.
Learning areas are able to be easily adjusted to accommodate the weather, individual student needs and the type of activities planned. Classrooms are connected to the outside using sliding doors that create an indoor/outdoor space. The open planned spaces encourage learning in different situations, giving teachers and students great flexibility. Y-walls allow opportunities for fluid collaboration between classes, while still providing separate learning spaces.
Students can choose a working space to meet their needs for the task, whether it be a shared, guided or independent learning experience. Wellbeing and relationships are of paramount importance. Student participation, collaboration and choice are fundamental components in all classrooms. We want students engaged in design challenges that allow them to develop a deep level of learning, enabling them to build a bigger picture of the real world.
Children experience different learning spaces that keep them interested and motivated in their work. Teachers create a personalised child-centred learning environment that reflects and respects children's interests and ideas. They intentionally provide a broad range of creative learning experiences with a rich range of materials and resources. The attention to detail in the learning environment provides the richness of the learning to improve student outcomes.
In our St Ambrose learning community, we believe that a partnership between families, community and parish is vital in developing a supportive, holistic learning environment for our students. We foster in our students the values necessary to meet the challenges in this dynamic and ever-changing world, strengthened by their Christian values. This enables us to guide our students to develop and recognise their full potential, guided by the Gospel teachings of our Catholic tradition.